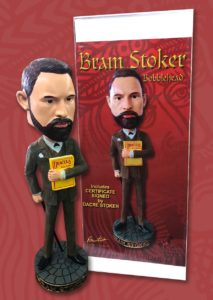 For the first time in history, a Bram Stoker Bobblehead. 
Licensed by the Bram Stoker Estate 
Irish author Bram Stoker 1847-1912 was best known for writing Dracula in 1897. He was also the manager for Sir Henry Irving and the Lyceum Theater for twenty seven years.  Bram wrote a total of twelve novels in addition to four works of non fiction and numerous short stories and articles. 
Buy yours now for $29.95 + $7 flat shipping